Club History & Today
The Calaveras Gem & Mineral Society was formed in 1948. In 1949, over an acre of land was donated to the club, and a clubhouse was erected on the property. The later addition of a lapidary shop provided the opportunity for the club to facilitate both educational and creative aspects of the hobby.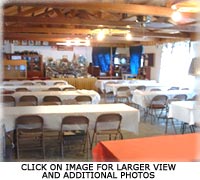 A large rock fireplace built with petrified wood, mariposite, quartz crystals, and other minerals and rocks representative of the area. It is a beautiful and appropriate feature within the clubhouse.
A kitchen and ample tables and seating for members allows the club to hold potlucks and other activities at monthly meetings. The club also holds a barbeque at its June meeting.
The club maintains a Library in the clubhouse.
To meet growing membership, the members recently reorganized the clubhouse to make more room and seat more members and also had the parking lot enlarged. They have scheduled work and cleanup days at the clubhouse to improve and maintain what they have inside and out.
In past years, Calaveras Gem & Mineral Society had a informational booth at the Valley Springs Pow Wow in Valley Springs, CA. The Pow Wow is no longer being held, but we hope it will come back in the future.